Designing a logo may seem like a simple task, but how effective is a DIY logo really?
We typically think of logos as a modern design element. However, humans have been identifying themselves using signature signs for thousands of years.
Throughout history, much symbolic design work is all about visually communicating identity.Logo design goes back to Ancient Greece, where rulers monogrammed coins.
The modern logo can be traced back to the 1300s, during the Renaissance, when craftsmen and artisans chiseled logos on their work as a symbol of ownership.
Today, logos have become an important part of businesses as it communicates identity, professionalism, quality, and values. A logo is usually the first interaction people have with a company. This allows businesses to make a good first impression, visually express their purpose and show they offer quality products and services.
Logo Trends in 2021
This year, modern logo design trends include stimulating new ideas to help companies represent their brands in the best way. These trends are predicted to motivate logo designers to evolve and grow, ensuring that they invest in innovation to better serve businesses and their customers.
The following trends and tips exhibit an optimistic message that implements new visual tools while also revisiting logo design ideas of the past.
●      Symmetry
Balance is one of the fundamental principles of design, and symmetry is the most advanced interpretation of it. Symmetrical logos give feelings of structure and strength. Therefore, some symmetry is necessary to maintain a balanced logo that is visually appealing.
●      Perspective drawing
Great design is often born from simplicity. This virtue is what allows logo designs to communicate the intricate identity of a brand to a customer. As a result, past logo trends have centered around minimalism. The perspective drawing trend is now looking to recover some of the charms that have been lost in over-simplification over the years. This trend involves using subtle perspective angles and simple drawing techniques to create the illusion of depth.
●      Static motion
Through the years, there has been a trend in animated logos. While technology has offered the means for these powerful visual achievements, 2021's trend is to create movement with motionless logos. This has led to a rise in fluid forms, motion tracers, splatter elements, and action lines. This trend is ideal for innovative businesses. Such a logo suggests that a brand is more than a business: it is indeed a living entity.
Fine line logos are typically very sharp and clean. When used correctly, it's a fascinating technique that relies heavily on some simple geometry. Using only fine lines, the result is a timeless piece of design that looks great across multiple surfaces.
●      Inventive Typography
Logo designers are now starting to get creative with typography to highlight a brand personality with an innovative typography solution. The benefit of this is that with the simplest of fonts, the most unique logo concepts can be created. The most important element with inventive typography is imagination.
Black and white logos are truly timeless. This logo design trend will probably be the most effective minimum fuss and maximum impact style of the year. Combined with newer techniques such as inventive typography, these types of logos will be both classic and innovative.
Gradient coloring adds tangible quality to logos. This trend enables designers to keep the focus on color, holding the viewer's attention while flowing from one element to another. Logos using this style are typically bold and easily stand out.
Today, businesses want to demonstrate their authenticity and pragmatic approach. As a result, there is a move to handwriting as a style for logo design. This trend involves complex hatched lines, beautiful details, and stylized signatures.
Optical illusions are a clever way to get people to pay more attention to a logo. Optical illusion adds depth, layers, and perspective. It can be fabricated into a logo using geometric shapes or by using a brand's letters.
Flat designs do not attempt to create an illusion of depth. It is a trend that opts for a cleaner look, moving away from unnecessary details that clutter the logo. Flat designs are easy to replicate on a large variety of surfaces, backgrounds, and textures. This makes these types of logos more versatile and more functional.
Nature has always been a design inspiration. However, this trend is only going to expand this year. Nature-inspired logos offer a sense of freshness, calm, harmony, and new beginnings, which is much needed with everything going on in the world.
When it comes to rebranding in 2021, businesses will be playing it safe and looking for smart ways to present their brands, relying heavily on old favorite design techniques. Businesses are still encouraged to explore appropriate and novel ways of getting their brand identity message across that will stand out among others but will also stand the test of time.
Best Logo Examples of 2021
Logos come in all shapes and sizes. But not all of them are effective. There are millions of logo ideas available; however, the best ones use the right elements and stand out with simple though striking designs. Let's explore a few design examples of logos that have met all the requirements of a striking and highly functional design:
BASE STUDIOS, a dance studio in London, has an effective logotype design. It transforms lettering into simplified geometric shapes. They've also made use of simple black and white to create a bold design that demands attention. The result is powerful and striking.
Global provider of Ukrainian-based dedicated development teams Mobilunity's logo is simple but striking. It makes use of a basic fine-line font and a matching image. The image is designed in the perspectives drawing technique. It features clever angles and a clean drawing style to create the illusion of depth. The result is a professional logo that brings about a feeling of connectedness.
Words and images have specific associations. Tech company Data Berry's logo greatly illustrates this with its minimalist image designed to evoke a tech-related concept and a strong personality.
AVON's logo features gradient coloring that holds the viewer's attention while flowing from one letter to the other. The design is simple yet bold, and the company name stands out against the white background.
Immanuel Lutheran Church makes use of a memorable and meaningful metaphor that brings nature into the design. The representation of a tree effectively connects the concept of life to the Christian cross.
The Square Up logo uses a square and the idea of "up" with an arrow. The use of the visual elements ensures universal recognition of the design and the content used.
Hand-drawn logos can leave a feeling of nostalgia and build an authentic quality, as seen with Lacalaca's logo. This logo also creates a welcoming, friendly feel that this business in the hospitality industry needs.
JR's has a logo in which the left side is identical to the right. Symmetry is an integral part of nature, and it makes everything more appealing to look at. It creates the feeling of balance, craftsmanship, and engineering.
Page Fold makes use of an optical illusion design. This technique adds depth, layers, and perspective to the logo. Even though the design is simple and clean, it grabs attention and keeps viewers engaged.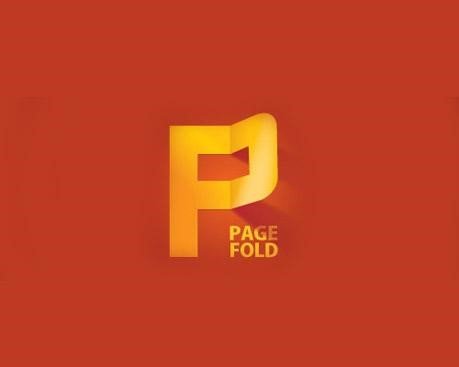 A logo should be designed to be easily recognized and effective across multiple media. It should also make an impact at any size and in both color palettes and black and white. Ultimately, a great logo makes a great first impression and is also memorable. The above examples can be used as logo design inspiration for any business that wants to succeed with branding.
Who Can Create Logos for Businesses?
With the online graphic design tools and logo templates available today, anyone can create a logo. However, a poorly designed logo can do a lot of harm to a brand. For a logo to be effective, it should portray the right brand image that targets the right demographic. This can be a tricky process, as all elements of the design have to come together, including the collection of wording, graphics, imagery, icon, place, colors, depth, etc.
To ensure a business gets a logo that looks professional, represents its values and makes an immediate and honest impression of the business philosophy, it should consider working with a skilled designer or design agency.
With a professional designer or design agency, a business can work directly with them and collaborate one-on-one. This can lead to new creative ideas, better communication through design, and ensuring the elements of the design are effective and memorable.
For businesses that want to invest in a complete rebrand or that want to ensure their professional business logo design is most suitable, should consider working with a web design consultant.
The Role of a Web Design Consultant in Creating Logos and Branding
Unfortunately, there is no copy-and-paste method to execute business branding, including logo design. Every business is unique and, therefore, it is important to carefully consider the specific business needs before starting with the design work.
Web design consultants play an indispensable role for businesses that want to build a strong online presence. Their role does not end at ensuring effective website design but can also include branding. These professionals work closely with businesses, share their knowledge, and spot opportunities to deliver excellent branding solutions.
Web consultants will conduct market analysis on search engines such as Google and examine data, so businesses can get to know their main competitors and identify a strategy to exceed them. Let's take a look at the role of the web design consultant in creating logos and branding and what it includes:
The consultant will take time to discover what a business wants its brand to be all about. Many questions will be asked, analyses will be conducted, and research will be done. This is to identify unique needs and to establish the way forward.
Once needs have been identified, the next step for the consultant is to align branding ideas with the business' positioning. The consultant will look at the business' value proposition and brainstorm what the business can offer that is unique, and clients will find it valuable and memorable.
Guiding the design process
The consultant will then assist the design team in creating the ideal logo and branding material. Typically, design teams will create a few options for logos, experimenting with different fonts, images, colors and wording.
The consultant will guide the testing of the branding material. This can include gathering data from test runs and surveys. Once all data has been analyzed, the designs will be finalized and launched. The consultant will be able to advise where and how to launch the new branding successfully.
Sometimes businesses need to know when to step aside when it comes to branding and design and hire a web design consultant.
Logos: a Valuable Investment for Any Business
A professional logo is a valuable investment for any business. When building a successful business, a key factor to take into account is a logo. A logo fosters trust, builds credibility, and establishes an emotional connection. In turn, this leads to loyalty among customers.