The future of electric vehicles in India is sky-high. Our Planet is suffering from global warming every day from the past lengthy years. This Covid-19, along with lockdown, was a wake-up call for us to take care of our Planet's health. Everyone should focus on global climate change. As there is a problem, there is always a solution. Electric vehicles can be an essential part of playing their role in a better future. It can improve air pollution, climate change, and many more problems at once.
According to a US-based news site CleanTechnica, 60 per cent of the electric cars were in demand in Norway last year. The Indian government is also taking an interest and playing a significant part in this initiation. The country might fail to produce its solar PV panels. Still, we can't lose hope in manufacturing lithium-ion batteries locally. The Indian government is offering manufacturing zones. That will be providing the latest equipment, cheap power, connectivity, and initiatives like Make in India, to indulge investment into the future.
There are several top EV battery manufacturers in India such as Exide, Exicom, Greenfuel Energy Solutions, Coslight India, Trontek, many more. These Auto components shared their interest in manufacturing lithium-ion batteries for electric vehicles within the country. In any case, if our government is unable to achieve significant battery clusters. Then India's plan to transition to EVs will never be fulfilled.
The most challenging part of these overall challenges in EV manufacturing is producing Li-ion batteries. Therefore, the government has to play an essential role in it. Only then the final price of EV will be decreased. According to a report by Firstpost, the price of a Li-ion battery can reduce by up to 80 percent. That only requires a larger volume of production. India needs a minimum of 10GWh of cells by 2022. By the end of 2025, it will highly increase up to 50GWh.
The government is entirely into establishing a battery manufacturing facility along with Bharat Heavy Electricals Limited. At the same time, Maruti Suzuki has shown their intention with a much larger investment in lithium-ion battery manufacturing in the country, according to the report in the Business Standard.
The cost of the battery pack is around 50-60 lakhs. It is too expensive compared to the Indian market. The active invasion of electric vehicles in India expects to evaluate the need for Lithium (Li)-ion battery manufacturing in the country. Batteries are exploited as the fundamental warehouse option for electrochemical energy. Also, these Batteries are eco-friendly and rechargeable. It contains Li-ion as the critical component of electrolyte.
The manufacturing of Li-ion batteries is reliant on the sourcing and least amount of lithium. Other minerals like cobalt, aluminium, and copper. The complete process of Li-ion battery manufacturing embraces the production of cell components segments. The primary application of Li-ion battery comprises electric vehicles (EV), EV charging and swapping stations, and grid services.
India is the fifth most considerable car market in the world. Approximately 600 million vehicles will be on Indian roads by the end of 2030. This is mentioned as India Electric Vehicle Policy 2030.The crucial role in this e-mobility transformation will be playing an essential role in the EV battery industry. Market experts predicted that the EV battery has a future of $300 billion in the coming 12 years. Since Manufacturing Li-ion batteries are remarkably vital in India, let us dive into the list of Lithium-ion battery makers that have decided to invest in the future.
List of Electric Vehicle battery Manufacturers in India – Future of electric vehicles in India: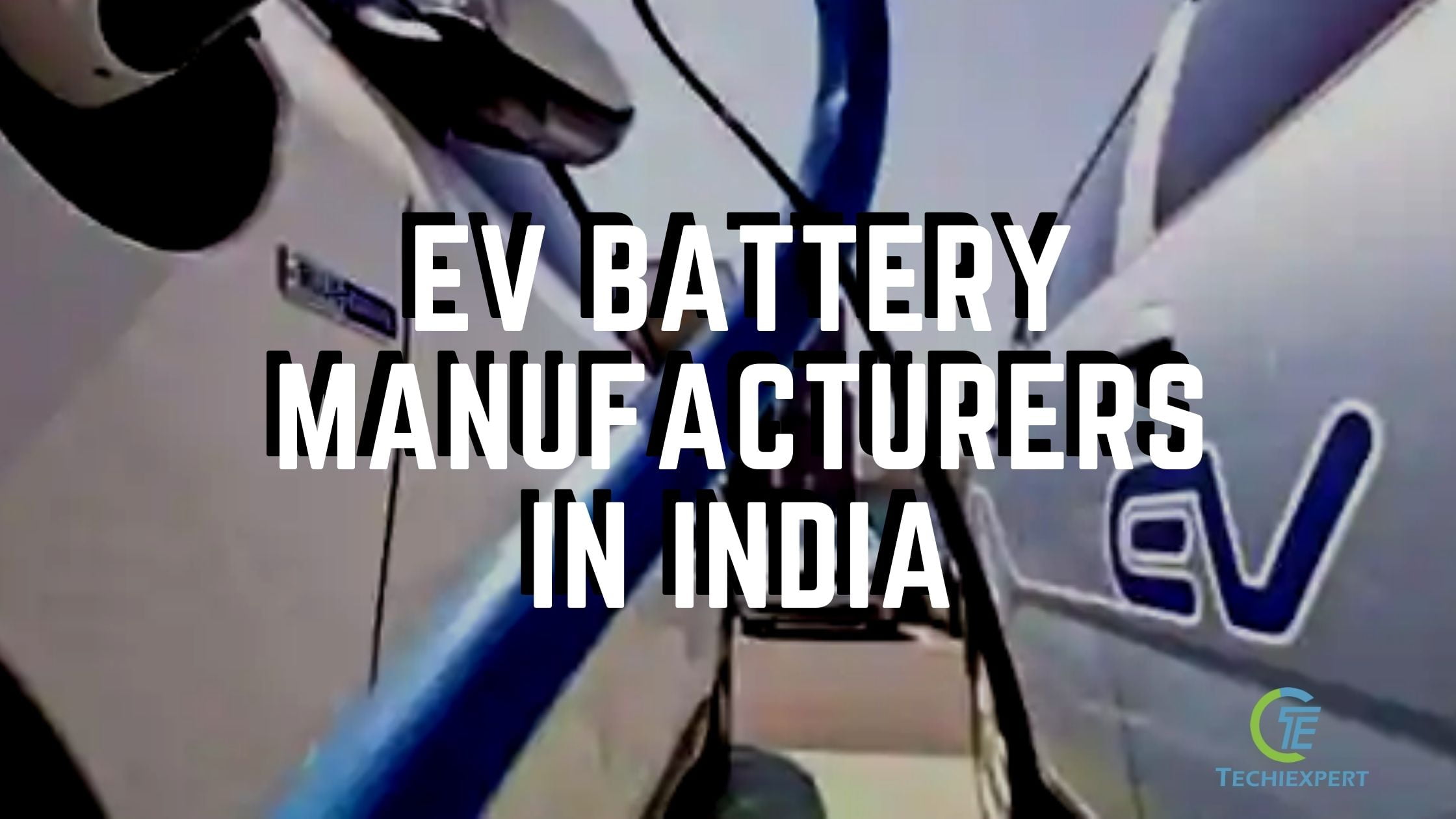 ISRO: Indian Space Research Organization (ISRO) has shown its intention to build energy-efficient and cost-effective batteries for electric cars. ISRO has signed to build Lithium-ion batteries for EVs in India. In June, ISRO declared its decision to transfer its lithium-ion cell technology to the Indian industry. It will be on a non-exclusive basis used in automobiles for Rs. 1crore.
Amara Raja Batteries Ltd: India's second-largest battery maker, Amara Raja batteries Ltd, will manufacture lithium-ion assembly plants in Andhra Pradesh to grasp the significant percentage. The organization is aiming to be a 100 billion entity in the next 2-3 years.
HBL Power Systems: HBL Power Systems Limited is an independent battery and power systems corporation based in Hyderabad, India. HBL Power Systems intends to expand business in Railways, Solar, E-Mobility, and defence products companies. The company has also inducted a plant to produce chromatic Lithium-Ion cells and batteries.
EON Electric Ltd: EON ELECTRIC Ltd is a formerly Indo Asian Fusegear Limited company. It is a mediocre scale company that manufactures lighting accessories. EON electric has started production of Lithium-Ion Batteries at SIDCUL, Haridwar.
Exide Industries: Exide Industries Ltd announced its joint venture (JV) agreement with Leclanche to establish lithium-ion batteries and energy storage solutions to power India's electric vehicle market.
These are the list of electric vehicle battery manufacturers in India. These organizations have shown their intention and investment to the future.
Market Probability Insights:
The Li-ion battery-making business in India is at a nascent stage at present. However, the country retains the potential to develop as the key operator of Li-ion batteries over the next few years. India can progress to establish the Li-ion battery production industry through three distinct phases: phase one (2017 to 2020), phase two (2021 to 2025), and phase three (2026 to 2030). In phase one, during the 2017-2020 period, the prime focus is to design an ambient manufacturing ecosystem.
The Li-ion battery manufacturing industry envisions achieving an economic value of around INR 1,300 billion to INR 1,400 billion, during phase one.
In phase two (2021-2025), India assumes to achieve around 25%-40% of overall industrial opportunity for Li-ion battery manufacturing. The industry expects to sustain its supply chain interface and create sizable investments in research and development by 2025. During this stage, India expects involvement in the manufacturing of battery packs and limited production of battery cells.
India presumes to begin phase three during the 2026-2030 period. In phase three, manufacturers plan to be involved in end-to-end manufacture of Li-ion batteries. As an outcome, the territory on imports is likely to be decreased significantly at this phase. This stage predicts the utmost importance for the country to build its liberation in the electric mobility sector by engaging in EV and EV batteries at the domestic level.
Market Influencers:
The central driving part thrusting the growth of the Li-ion battery manufacturing industry in India is its intention to encourage electric mobility. The Indian government has envisioned transforming two and three-wheelers within 100% electric ones by 2030. Currently, India relies on other countries for sourcing EV batteries, which has appeared in the hiked price of EVs. The entrance of EVs in the Indian automotive sector assumes to reinforce the requirement for domestic manufacturing of Li-ion batteries to be economically viable.
Sizeable expenses from foreign and domestic performers have been executing a significant position in advancing the Li-ion battery manufacturing market in India. Supportive monetary policies like a land endowment, discount in the number of permits, tax cuts in international investments, and direct government subsidies have inspired the influx of investments. Suzuki Motor Corporation, Toshiba Corporation, and Denso Corporation have funded INR 37.15 billion and INR 12.14 billion in two phases to manufacturing Li-ion battery parts lines in Gujarat.
A significant barrier to the market's extension is that the country is dependent on the import of raw elements due to its lack of mineral supplies. India relies on countries like China, Chile, Bolivia, Argentina, and Australia to fulfill the need for lithium in the market. Moreover, other essential raw materials like cobalt, nickel, manganese, and graphite are also sourcing from multiple foreign countries. On the other hand, the ecosystem consists of various stakeholders. The weak coordination among them contains the development of a robust supply chain network in the industry.
Government Initiates Around Li-ion Batteries:
At this stage, the Indian government has taken an active role in improvement towards global problems. The government will increase the import taxes on lithium-ion cells to 10% from the current 5% from April 2021. Along with this, the import duty on assembled battery packs will increase from 5% to 15% from April 2021. It will gradually set up the national mission on Transformative Mobility and Battery Storage in 2019 to encourage mobility initiatives to set up large scale manufacturing plants for cells, batteries, and other components of the EV value chain. Tender worth $50 billion is assumed to drift for global investors to set up a 50 GW battery manufacturing field under 'Make in India'.
The electric vehicle policy in India will also change the vehicle industry. NITI Aayog will inquire suggestions from lands to distinguish a total of 5-20 locations in the country. The organizations will be needed to set up the manufacturing facilities by 2022. They will get the benefits for eight years till 2030. India and Bolivia have formed a partnership that involves India investing in developing Bolivia's vast lithium deposits. Bolivia would, in turn, help the supply of lithium, lithium carbonate, and cobalt to India. According to tech experts, three different Lithium-ion battery companies expect to set up units with a merged capacity of 10 gigawatts in Telangana, with Rs 1,500 crore in the first phase a total investment of Rs 6000 crore.
In addition to the above cases, government forms are also involved in Li-ion cell manufacturing. Earlier in 2019, ISRO chose ten organizations to transfer its advanced low-cost Li-ion cell technology. These electric car battery manufacturers in India listed the company down below. However, there are no official updates on their progress with the technology.
Amara Raja Batteries, Andhra Pradesh
Bharat Electronics Limited BEL, Pune
Carborundum Universal Limited (CUMI), Kochi
Exicom power solutions, Gurgaon
GOCL, Hyderabad
Jyoti CNC Automation Ltd, Gujarat
Tata Chemicals Ltd, Mumbai
Thermax Ltd, Pune
Sukhbir Agro Energy Limited, New Delhi
National Aluminium Company Limited (NALCO), Bhubaneshwar
Conclusion:
Currently, either Li-ion cells shipped from China or Taiwan for assembling into batteries in India, or already produced battery packs are imported. Acknowledging the hopeful plans to launch EVs, these imports are going to cost the economy dearly. India neither has any associated roots of lithium (the lightest metal) or cobalt nor do we have the EV battery manufacturing capabilities in India. The government desires to boost lithium-ion batteries' local manufacturing by battery chemistry associated with FAME incentives and increments on import services. Regional Manufacturing of Lithium-ion batteries demands to bring down the EV price in due time.
As of now, China is the largest consumer of lithium in the world. China also intends to secure lithium from Bolivia through a mutual investment with the latter's state lithium organization. Lithium wealthy countries like Bolivia, Chile, Argentina, and Australia are valued to execute a crucial purpose in energy storage products in the coming years. To solve the country's EV adoption objectives, we need to see a prompt capability structure for lithium-ion cells and battery production. Indeed, the actions taken by the government and industry will ensure access to lower-cost energy storage systems for the future of electric vehicles in India.
Li-ion batteries make up for the most precious electric transportation element, estimating for 40-50% of its cost. With the rising perception of EVs in our transport system, the need for Li-ion batteries for EV uses has begun to skyrocket. Besides electric vehicles, other benefits such as renewable energy integration with the network will expand the LI-ion battery market needs. According to the government's approximations, India will require at least 10 GWh of Li-ion cells by 2022, about 60 GWh by 2025, and 120 GWh by 2030. This study investigates the current state of Lithium-Ion battery manufacturers in India for electric vehicles.