So, What is TikTok?
TikTok application is the brainchild of Bytedance, a Beijing based company that once owned Musical.ly, and it was launched in September 2016 as Douyin (it's Chinese moniker). When it started internationally, a year later, they branded the social media app TikTok which later merged Musical.ly in it.
The application lets users view, create, and share 15-second videos (kind of like RIP, Vine). It is estimated that there are approximately 500 million users worldwide for this application. The application has been highly ranked in the charts of App Store and Google play for more number of downloads over the past few months, with a spike when Fallon had his first challenge, #tumbleweedchallenge. (Though, Fallon and The Tonight Show do not have any business relationship with Bytedance.)
Users can do duets, lip-sync, record a reactions video, and has some cool tech in the app for editing videos. Users can also comment on videos and create video memes. It's pretty fascinating and funny, too, and wildly appealing to the masses.
One of the best things about TikTok is that the app doesn't have any advertising or monetization capabilities, even though it has a vast audience. With an estimated 500 million users, it's just a matter of time.
So, in short, TikTok is an Android and IOS social media video-making application for creating and sharing short lip-sync, comedy, and talent videos. The application was launched in 2017 by ByteDance, for markets outside of China. ByteDance had previously launched Douyin for the China market in September 2016. TikTok and Douyin are the same but run on different servers to cope up with Chinese censorship restrictions. The application allows users to make short music and lip-sync videos of 3 to 15 seconds.
The rapid growth of TikTok
The Beijing-based ByteDance's acquisition of teen and tween-focused social app Musical.ly is now paying off. The company merged Musical.ly with its short video app TikTok this year as a means of entering the U.S. market. As a result of that merge, TikTok is sitting at the top of the U.S. App Store, ahead of the social media giant Facebook. More significantly, it recently surpassed Facebook, YouTube, Snapchat, and Instagram in monthly installs for the first time this September.
According to data from an app intelligence firm Sensor Tower, TikTok's installs were higher than those of Facebook, YouTube, Snapchat, and Instagram in the U.S. last month.
It also surpassed the four other apps in terms of daily downloads on September 29, 2018, with 29.7% of the downloads from this cohort of apps, says Sensor Tower.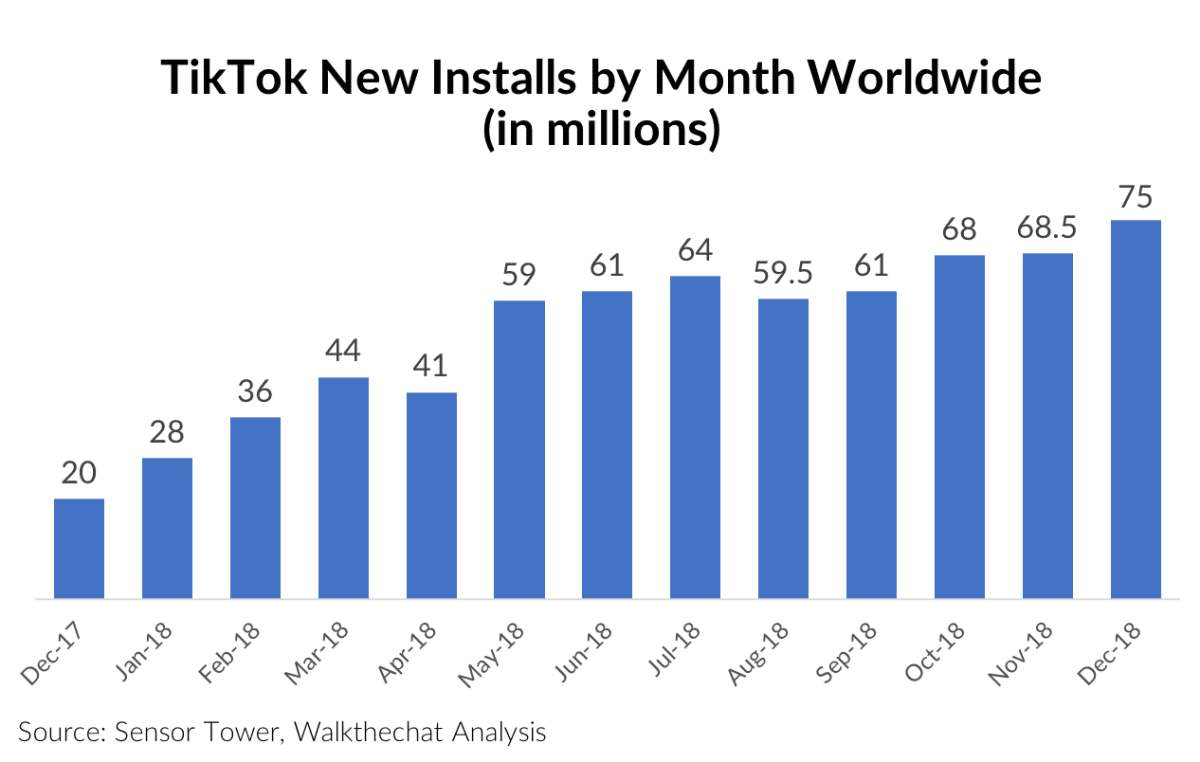 Since then, it has continued to increase its market share among this group of four apps, reaching as high as 42.4% of downloads among these apps just days ago, on October 30, 2018.
In September, the number of installs of TikTok grew around 31% from the prior month to reach approximately 3.81 million on the Apple Store and Google Play store combined. This beat No. 2 Facebook, which had around 3.53 million first-time installs.
Year-over-year, TikTok's U.S. installs were increasing by 237% from 1.13 million in October 2017.
As floods of new active users join TikTok every day, the app has also flirted with passing these leading social apps in the top charts of App Store, at times, too. Today, it's ahead of social media giant Facebook and Messenger as it sits in the No. 4 position, for example. But it's behind YouTube, Instagram, and Snapchat, which are the top three apps, respectively.
However, at other times, it has gotten as high as number3 in the Overall Free Apps Top Chart, according to App Annie data.
An app researcher Apptopia reports similar findings in its research, in terms of TikTok's surge. However, it noted that the engagement rate of the app(the portion of monthly users who daily open the app) was still behind the rest of the group. Apptopia also said TikTok had a 29 percent engagement rate, compared with Facebook's 96 percent, Instagram's 95 percent, YouTube's 95 percent, and Snapchat's 95 percent, which is way more less.
It also noted the app has gained, in part, from increased ad spend across Google's mobile ad platform AdMob, Facebook, in-app ad platform Vungle and others. Other benefits are attributed to the merger Musical.ly.
In June, TikTok (also known as Douyin in China) reported reaching a count of 500 million global monthly active users across 150 countries and regions.
Should TikTok scare Facebook…?
Chasing 15 seconds of fame, TikTok hooked millions of Indians. The uprising of the Chinese short video-sharing app — despite calls for regulations and controversies — has forced major digital giants like Facebook to incorporate short videos on their respective platforms. So, the major question is, "Should TikTok scare Facebook?".
TikTok application is available in over 150 markets in 75 languages and has more than 700 million active users monthly all over the world (including over 200 million in India) in just a year of establishment compared to 300 million existing active Indian users on Facebook.
Platforms such as Facebook and Instagram are facing stiff competition from TikTok, especially in countries like India. TikTok owners now plan to invest $1 billion in India in spite of the calls to ban the app in the state. As most of these social media sites are owned by Facebook and their usage is greatly affected by the new player in the field TikTok, it looks like TikTok is actually scaring Facebook.
According to Meenakshi Tiwari, a Forecast Analyst at global market research firm Forrester, TikTok somehow managed to monetize its offering within a year of its launch through a variety of revenue models like the in-app purchase of virtual gifts and coins, advertising accounts for most of its revenue.
TikTok invests heavily in influencer marketing, similar to Instagram and Snapchat.
"TikTok launched new advertising formats such as in-feed native video, brand takeovers that allow full-screen vertical display, and hashtag challenging ads. These new advertising formats provide a more interactive and immersive platform to the marketers," Tiwari told IANS.
One can imagine what Facebook must be thinking: To quickly put a spanner in TikTok's growth else, the India market will slowly ditch its central platform as well as the photo-sharing Instagram which is also owned by Facebook.
In November last year, Facebook released a stand-alone short-video sharing application called "Lasso" to compete with TikTok which obviously proves that Facebook is actually scared of TikTok.
On Lasso, which is now only available in the US, users can record themselves lip-syncing and dancing to music, similar to what they can do on TikTok.
"Lasso is a new stand-alone app for short-form, entertaining videos — from beauty to comedy to fitness and more. We're very much excited about the potential here, and we'll be gathering feedback from the people and the creators," a Facebook spokesperson had told The Verge.
Facebook last week roped in former Google employee Jason Toff for a critical portfolio, and the speculation is about the social networking giant Facebook preparing the global launch of its short video-sharing app Lasso.
Toff earlier worked for Twitter's short-video sharing service Vine, which has been shut down. He now has joined as Facebook's Product Management Director to lead the company's New Product Experimentation (NPE) team that is aimed at developing experimental apps for consumers who are still away from the core brand of Facebook.
According to Prabhu Ram, Head of Industry Intelligence Group (IIG), CyberMedia Research (CMR), the rise of apps like Bytedance's TikTok demonstrates their urge and need for expressing themselves by experimenting with new apps and platforms, and underlying consumer fatigue which is absent in case of Facebook. And this kind of approach clearly shows that TikTok actually scares Facebook.
"By focusing on vernacular languages, TikTok has now enabled many Indians to share their talent with the world. With its first-mover advantage, combined with rapidly and organically growing the active user base, Bytedance is not at all shy of battling Facebook's global dominance," Prabhu Ram told IANS. He also added that Facebook should start taking TikTok seriously.
Bytedance's TikTok is swiftly scaling its ecosystem to ringfence its active users with 'mini-programs' and, perhaps, smartphones with pre-installed apps in China.
"It is imperative to thwart the rising competition from TikTok for Facebook. Unfortunately, its previous attempts at making a clone of TikTok have failed. More significantly, Facebook's reach in India may not extend beyond the tier II and III urban India," emphasized Ram.
The Chief Executive Officer (CEO) of Facebook, Zuckerberg, in the Q1 2019 earnings call, pointed out that the meaning of social media is changing in today's world from day to day, and there is a move towards more private social media like Instagram, Snapchat and Whatsapp.
Mark Zuckerberg must not delay further in launching a TikTok rival, "else time may run out for Facebook to have an application that will get India excited," said Prabhu Ram.
Unless TikTok is permanently banned in the country over a series of complaints, there seems to be no stopping this Chinese app.
So, should TikTok scare Facebook? Well, maybe. But, the recent statements of Facebook's CEO Mark Zuckerberg suggest otherwise.
Zuckerberg misunderstands the huge threat of TikTok…?
"It's almost like the Explore Tab that we have on Instagram.", said Facebook CEO Mark Zuckerberg in one of the leaked audios of him describing TikTok during an all-hands meeting. But it is not. TikTok, as an application, represents a new form of social entertainment that's vastly different from the lifelogging of Instagram, where you can take a selfie, show something pretty or pan around what you're up to. TikTok videos are premeditated, storyboarded, and vastly different than the haphazard Stories on Instagram.
That is exactly why Zuckerberg's comments are casting a dark shadow over the future of the Facebook family of apps like Instagram. How can Facebook beat what it doesn't completely understand? He certainly cannot ignore it, Can he…? Facebook's copycat app Lasso has been installed just 425K times since it launched in November, while TikTok has a huge 640 million installs in the same period outside of China. But, TikTok has 1.4 billion total installs beyond China to date.
Anyhow, TikTok has emerged as one of the major threats for Facebook and the answer to the question "Should TikTok scare Facebook?" is obviously YES. Facebook should somehow find a way to tackle this problem or else it might have to face serious losses.